Voice Feminisation
Introductory Video – Featuring 3 Client Voice Samples
Client 'C' – Voice at Initial Assessment
Client 'C' – Voice during Session 8
Frequently Asked Questions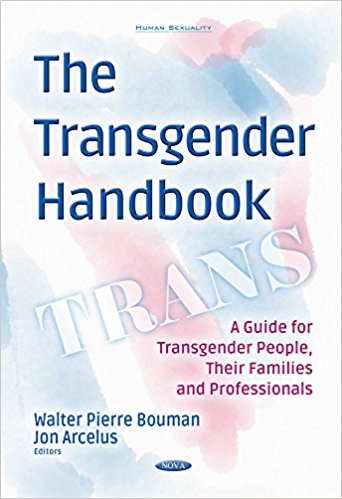 This handbook is written for transgender people, their families and friends; for professionals who in their day-to-day job may encounter transgender people; and for students, teachers, educators, academics, and members of the public at large with an interest in transgender people.
This handbook gives an in-depth overview on a wide spectrum of issues encountered by transgender people, from childhood to later on in life. Key topics addressed include medical and surgical treatments, access to transgender health care, sexuality, mental health issues, fertility, education, and employment.
This practical guide is written in a clear and concise manner by more than 40 international specialists in the field of transgender health and well-being.
This essential text is extensively referenced and illustrated, and informs the reader on a broad range of important gender-affirming issues.
Click here to download discount order form
Testimonials
"Just sitting here on a balcony in a restaurant… Feeling very contented. ..I am just reflecting on my recent journey of which my voice is a central part. I feel I owe you a lot for your skill and experience and just want to thank you for helping me find my true voice. To be treated and to be read as a woman is indescribable. Your work is amazing. "E.K. 19.09.16
"Thank you for all the help, support and time you have given me, plus your patience of course! I find it hard to convey how much confidence our sessions have given me and countinue to do so. Apart from the learning, I did so enjoy talking to you."Ms D.W
Gender Transition
GenderCare
UK specialists in gender therapy.
Positive Beams
Understanding the importance of being heard and respecting diversity, enabling people to develop their inner strengths, find their own solutions, and feel secure in their lives. Counselling with Tina Livingstone.
Electrolysis
Sara Thomas – Gender Transitions – London based services
Kaye Antoni – Nuture – Cornwall based services
Semi-permanent make up
Sara Thomas – Gender Transitions – London based services